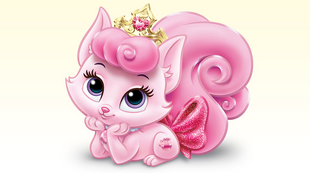 Beauty
is a sleepy kitten that belongs to
Aurora
. Who scooped her right up the day she found her taking a cat nap in a flower patch one warm, sunny spring day.
Her theme color is pink, and she has a pink heart-paw print by her left hip.
Beauty is voiced by Ingland Shelvie.
Personality
Having not left Aurora's side since they met, Beauty is a very sleepy kitty that can often be found cuddled up next to her. She adores rests, naps, and just taking it easy. Is it any surprise this charming kitten sparkles like a star!
Appearance
Beauty is a pink youngest kitty with lilac purple eyes. She has slightly darker pink hair simply consisting of curled bangs worn with a golden crown that has a big pink heart gem in the center. Her tail is very long and puffed, with many curls on the end and worn with a shimmering magenta ribbon.
Beauty also wears a light blue collar with a big pink heart gem on it. 
Quotes
Merchandise
Beauty and Bliss playset. Comes with a translucent pink and gold dish, a translucent pink heart shaped bottle, a magenta brush, a light pink eye mask, Beauty, a picture of her with Aurora, and her glittery pink and gold themed cat bed. Her tail is purple and can be brushed.
Furry Tail Friends Beauty. Comes with a furry magenta tail and a matching colored brush.
Beauty Role Play Plush with Pamper Accessories. Comes with a big plush doll of Beauty, plus a golden comb, gold and fuchsia-purple clips, fake lipstick, fake perfume, and fake nail polish. Her hair and tail are made of real pink material with tinsel strewn through the tail.
Trivia
Beauty's name mostly comes from two things. The title "sleeping beauty", and also the phrase "beauty sleep".
Beauty resembles a Pokemon known as Vulpix. They have similar shaped tails and bangs, as well as body types.
Sultan Summer Rouge Lily Treasure and Slipper have no whiskers.
Gallery