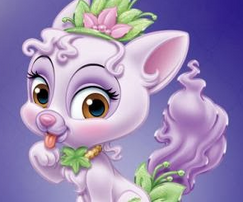 Lilly
is a Charming kitty of
Tiana's
and she can be often found visiting her restaurant.
Lily's theme color is purple and green. While she has a green heart-pawprint marking on the upper part of her left leg.
Lily is voiced by Shannon Dee Kent.
Personality
Like Tiana, Lily is a big lover of jazz music. She adores dressing up in her finest ragtime outfits!
Appearance
Lilly is a very pale lilac-white kitten with very slightly darker lilac markings around her eyes and mouth (muzzle). Her nose is light pink, and her eyes are chocolate brown. She has four curls of hair, worn with a shimmering green leaf-let style tiara with smaller pink petals in the center. She has a puff of fur at her chest, and her tail sticks up and is somewhat wavy and purple colored.
Lilly also wears a gold collar with a single green leaf shaped like a star in the center, and a leafy object with few dew-drop strands attached to it.
In the Palace Pets App, Lily is shown with alternate accessories. She wears a gold shimmering bow on her tail and a gold crown.
Quotes
Merchandise
Trivia
Petit Teacup Blondie Meadow Daisy Nuzzles Windflower Treasure Slipper and Matey have muzzle.
Gallery