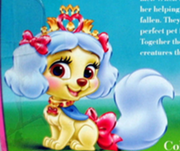 Muffin is a poodle that the seven dwarves found one day while she helped a little bird that fell from it's nest. They thought she would make the perfect pet for Snow White and together they rescue troubled woodland creatures. 
Her theme color is pale blue and red, while her pawprint mark is __ and located __.
Muffin is voiced by Anna Cummer
Personality
Muffin is an heroic pooch who can't help but help those in need. She loves to spend time with Snow White.
Appearance
Muffin is a pale yellow poodle with fluffy ears and tail, both a milk-blue color and held with sparkly red bows. She has rich brown eyes and a matching nose, and rosy pink cheeks.
On her head, Muffin wears a gold crown with a red heart-shaped in the center. Around her neck is a gold collar with rubies all over it and a ruby bone-shaped tag hangs in the center. Attached to her collar is a blue cape-like shawl.
Merchandise
Trivia
Muffin's Bow have three Similar to Daisy.
Gallery
Community content is available under
CC-BY-SA
unless otherwise noted.