Seashell
was originally a sea horse that has come on land, currently in the posession of
Ariel
, but currently it is unknown how she got her.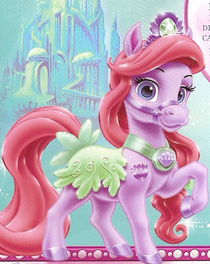 Seashell's color scheme is purple and light green. Her paw-print shield mark is violet and on her upper right arm.
Seashell is voiced by Shannon Dee Kent.
Personality
Kind of clumsy, Seashell is a funny little sweetie who can swim very well. She loves seashells!
Appearance
Seashell is a pale purple pony with violet colored eyes and silvery-lilac hooves. Her wavy hair is red and goes down to her feet with her bangs curling in one direction while the lower half is worn with a green bow. On her head is a violet crown with a big green gem in the center. Her tail is very long and thick, with a little wave in it.
Seashell wears a green, leafy shawl piece on her back, along with a leafy style tail ornament. Around her neck is a green necklace with a big round piece in the center and a lilac seashell.
Merchandise
Primp and Pamper Pony - Comes with a teal and purple brush, a purple glittery tutu, and four pink shoes.
Seashell Minature
Trivia
Seashell's picture may be an edit of Petit's.
It is hinted that Seashell may have originally been a sea horse.
Gallery
Community content is available under
CC-BY-SA
unless otherwise noted.