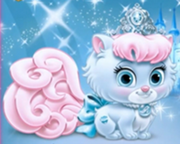 Slipper is a plump kitty owned by Cinderella. She has a special talent that involves finding shiny, pretty objects that the Princess uses to make jewelry with.
She has a blue and pale pink color scheme, and her blue heart-pawprint mark is on her right thigh.
Slipper is voiced by Ingland Shelvie.
Personality
Slipper's unique ability may hint that she enjoys sparkly, shiny objects.
Appearance
Slipper is a pale blue-white, fluffy cat that happens to be just a smidge overweight or have thick fur. She has bright, sky blue eyes and a pale pink nose to match her cheeks, while her muzzle and chest fur is white. She has light pink coloring in her ears. Her bangs are short cut and a pale, frosted pink to match her curly tail held by a bright blue ribbon. She also wears a big silver crown with sapphire gem in the center, and a thin necklace with a blue sphere depicting Cinderella's glass slipper.
Merchandise
Trivia
Slipper's colorscheme matches that of Bibiddy, who also belongs to Cinderella.
Due to her talent, Cinderella will often say that Slipper is "her hidden gem".
Gallery
Community content is available under
CC-BY-SA
unless otherwise noted.