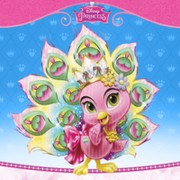 Sundrop is a cute peacock owned by Rapunzel. Sundrop met Rapunzel when he saw her painting in the village square and he couldn't help taking a closer look. Rapunzel was amazed by his unique personality and they became good friends.
His color scheme is gold, sea green and pink, and he has a sea-green heart paw print mark on his right hip.
Sundrop is voiced by Stuart Stone.
Personality
He's a showman and loves to get compliments. He loves to make classy, unique suggestions for Rapunzel's artwork. 
Appearance
Sundrop is a light pink peacock with bright, olive-green eyes. His beak and feet are yellow. He does not have any hair, but he has giant rainbow tail feathers of blue, yellow, and pale pink. Dark pink lines the feathers, while each portion has a big teal, gold, and mauve design on it. Sundrop wears a gold crown with three giant crystals shaped like diamonds. Next to it are two flowers, one yellow, the second a cloudy-blue. He wears a hot pink ribbon at his tail feathers and has a yellow beaded collar with a flowered shape. 
Merchandise
Quotes
"Rapunzel says my feathers are beautiful. (Chuckles) She's right."
Trivia
He likes colors, Rapunzel's artwork and showing of his tail feathers.
Ironically, his toy comes with a brush/comb despite not having a furry tail.
Sundrop got his name in the beginning of Rapunzel's film "Tangled" since the film started with a drop of sunlight.
Sundrop has been added to the Palace Pets App with Pounce and Taj.
Gallery
Community content is available under
CC-BY-SA
unless otherwise noted.