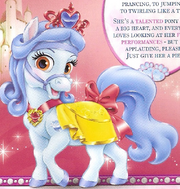 Sweetie
is a funny and delightful pony that belongs to
Snow White
, but currently it is unknown how she got her.
Sweetie's color scheme is white and blue with small amounts of red-pink. Her marking is on her upper left arm and matches the color of her body.
Sweetie is voiced by Kath Soucie.
Personality
Sweetie is a big hearted pony filled to the brim with talent. She is known for being humorous and would do anything for a pie. Including prancing, jumping, and twirling around like a spinning top!
Appearance
Sweetie is a very pale blue, white colored pony with silvery-blue hooves and bright caramel brown eyes. She has pretty, silvery-blue stylized hair with Snow White's bangs and each seperate part of hair coming down to curl on end. Her tail almost reaches the ground and has a little wave in it. She wears a red metal crown on her head with a big blue heart in the center.
Sweetie wears a yellow shawl on her back with golden lining and details, along with a red bow on her tail and a red necklace with a gold broach attached to it with a red heart shaped center. On her face is a blue-ish harness.
Merchandise
Primp and Pamper Pony - Comes with four gold shoes, a red tutu skirt, and a red brush.
Trivia
Sweetie's picture seems to be an edit of Bibiddy's.
Her pawprint-shield mark has appeared to be yellow, while in most art it is the same color of her body.
Sweetie got added to the Palace Pets App and her pawprint is gold on her left shoulder.
Quotes
"I just know you'll help me look pretty for Snow White."
"My princess is going to so pleased!"
Gallery
Community content is available under
CC-BY-SA
unless otherwise noted.