Treasure
is a young kitty that belongs to
Ariel
.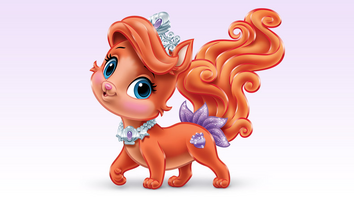 Treasure was discovered on Prince Eric's ship and they kept her there until founded by Ariel.
Her theme color is ruby red and she has a purple heart-paw print by her left hip.
Treasure is voiced by Cree Summer.
Personality
Treasure is a very curious kitten that actually happens to enjoy water! But she has always dreamed of living in a big fancy castle and likes to collect trinkets.
Appearance
Treasure is an red kitten with a creamy face, chest, and stomach. She has slightly loose fur at her cheeks with a bit of pale pink blush and deep blue eyes. She has a single bang/forelock of hair that curls over her face and is worn with a silver crown that has a single purple gem in the center to match her collar.
Her tail is shown to stick up at most times and is very wavy and curly. It's worn with a shiny purple leaf-like ornament.
Quotes
"Could you help me get ready for the party?"
Merchandise
Furry Tail Friends Treasure, comes with a purple brush with a silver seashell gem on it.
Treasure Glitter and Glitz
Treasure Talk and Sing Collectable. Comes with the same purple brush that the other sets have.
Trivia
Gallery
Community content is available under
CC-BY-SA
unless otherwise noted.