Tags:

apiedit

,

Visual edit

Line 4:
Line 4:
 

Her color scheme is various blue with gold accenting. Her gold heart paw print is on her upper side.

 

Her color scheme is various blue with gold accenting. Her gold heart paw print is on her upper side.

 
 
−

She is voiced by Mila Brener.

+

is voiced by .

 
+
 
+

In whisker haven tales, she was voiced by Mila Brener.

 

==Personality==

 

==Personality==

 

''Windflower loves to play and explore but she often gets into trouble. To get out of it, she usually relies on her big, adorable eyes. While loved by all, the adults usually use her tales as "lesson stories" for children.''

 

''Windflower loves to play and explore but she often gets into trouble. To get out of it, she usually relies on her big, adorable eyes. While loved by all, the adults usually use her tales as "lesson stories" for children.''
---
Revision as of 16:38, 28 March 2016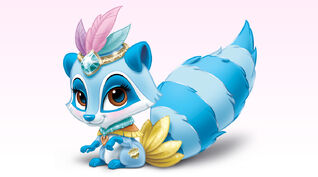 Windflower is a young raccoon that belongs to Pocahontas, who found her stuck in a log.
Her color scheme is various blue with gold accenting. Her gold heart paw print is on her upper side.
Windflower is voiced by Marieve Herington.
In whisker haven tales, she was voiced by Mila Brener.
Personality
Windflower loves to play and explore but she often gets into trouble. To get out of it, she usually relies on her big, adorable eyes. While loved by all, the adults usually use her tales as "lesson stories" for children.
She loves to play in waterfalls, eating, children, and looking nice for Pocahontas. 
Appearance
A pale blue raccoon with bright blue ears, nose, eye marks, tail stripes, lower arm and paw, and feet. She has rich chocolate eyes and a white muzzle, eye mark, chest, and stomach.  Windflower wears a pale gold head piece with a big crystal diamond in the middle. Three feathers are attached, one lavender, one pale pink, and the last pale blue. She also wears a gold petal-shaped tail accessory and an orange and gold shawl worn with a blue collar. An orange-gold accessory is attached to it and a very fluffy blue tail 
Merchandise
Furry Tail Friends
Talking and Singing Plush.
Plush
Quotes
"How good to see you"
"Mind if I pooch a snack?"
​(Getting Bathed and Blow Dried)
"It's just like playing in my favorite waterfall!"
"Ah! Thank you! I really needed a bath!"
"
"
(Getting groomed and trimmed)
(Getting Fed)
"
(Eating) "
(Eating) "
(Eating) "
(Eating) "
(Getting Dressed)
Trivia
She likes children and getting into trouble.
She was added in the version 1.3 of the app Whisker Haven,along with Matey and Rouge.
Gallery